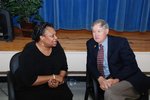 Judge Garner and Mr. Helms, School Board Member
Dress for Success Lecture Series 2009-2010
Attorney Kathy Garner was sworn in Friday, Dec. 18, 2009 at the Gadsden County Courthouse in Quincy, Florida filling a vacancy created by the retirement of Judge Stewart E. Parsons.
As a lifelong resident of Gadsden County, Judge Garner has a thorough understanding of the community in which she serves. Governor Charlie Crist stated: "With more than a decade of experience as an investigator and a child advocate, she has demonstrated the appropriate balance between compassion and justice needed by a judge."
Judge Garner's father, the late Alfred Garner, served as Mayor Pro Tem of the City of Quincy and was a recreation coach in the City for twenty (20) years.
Judge Garner was a child support hearing officer for the 2nd Judicial Circuit since 2004 and a sole practitioner for the Garner Law Group since 2000.
Before graduating from the Florida State University School of Law, Judge Garner earned a Bachelor's degree in criminal justice from Florida A&M University and served as an investigator for the Florida Department of Transportation from 1987 to 1992; worked for the Florida Department of General Services from 1985 to 1987 and worked with the Florida Commission on Human Relations from 1981 to 1985.
"A True Pioneer
and
Outstanding Citizen of Gadsden County"
Source: http://www.blackamericaweb.com (Gadsden County Swears in Its First Black Judge, Tuesday, December 22, 2009, by: Jackie Jones)